Choose a category to find the answer to your questions!
Learn about Customily
What is Customily?
---
Customily is an online product personalization software, built to enhance e-commerce experiences. With Customily your products can be customized easily online in your store by your own clients. Customily works also as powerful web to print tool, so not only will your customers personalize what they are buying, but you will also receive a ready to print (or engrave) file of the design they created.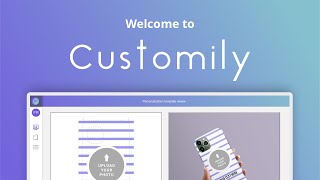 ---
What do I get when subscribing to Customily?
---
You'll have Customily added to your store, so customers can personalize your products online while seeing a dynamic preview. But most importantly, you'll also get your credentials to access Customily's Admin Panel (app.customily.com) where you'll be able to set up the personalization for all your products and designs.
---
What's Customily Admin Panel?
---
Customily's Admin Panel is our most powerful tool, where you can set up all the personalizations for your products. Here you'll be able to upload your designs and product pictures and define which areas customers will be able to personalize.
It has a very easy to use design interface, where you can add different customizable elements (such as text, images, or variations) to your products, both in their design files and in the pictures to create the preview. Imagine photoshop but for personalized products.
You can check how our Admin Panel works in the video below.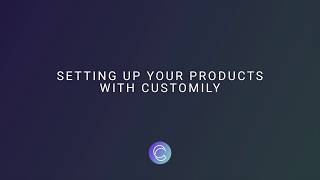 ---
How can I buy the software?
---
Contact us at hello@customily.com and we will help you find the best plan for your store! Once it's decided we will send you the subscription link so you can start using it! Customily is a monthly-based service, which means you pay for every month of use. You can find all the pricing details here.
---
---
Plans and Pricing
What's the difference between PREVIEW and PRODUCTION plans?
---
With Preview Plans you have unlimited access to Customily's Admin Panel to set up your own previews. By using your own product images and adding different personalizable elements such as texts, pictures, etc you can configure the personalization for any of your products. Then your clients will be able to customize your products with texts, monograms, fonts, colors, sizes, materials, patterns and photos, all while seeing a live preview of it on your store. Once they make a purchase you'll be able to see the details of the customizations they chose on your store's order.
With Production Plans, not only you get all the Customily's Admin Panel features to configure your previews, but you will also be able to configure your production files. Then when a customer makes a purchase you'll be able to download your customer's design ready to print or engrave. No need for designers or extra times wasted translating what the customer created!
---
I want a per-product plan, what counts as ONE product?
---
Each product page you have on your store will count as a product.
For example, let's imagine you sell custom phone cases. If you have several phone cases designs on different pages, they will count as different products.
However, if you have a phone case model available in different colors or sizes with options listed in the same listing (for example with variants) everything would be in the same product page so it counts as ONE product.

---
Is there an integration cost?
---
This depends on your e-commerce platform. If you work with Shopify, WooCommerce or BigCommerce, the standard integration is always included in our price plans. If integration with your store requires modifications due to complexities of your theme or third-party apps, then a custom integration fee will apply.
On the other hand, if your store is built on a different platform the integration will require special development. This translates into a one-time integration fee that is not included in our plans.
---
Do you charge commissions?
---
NO! What you see on our plan descriptions is everything you need to know. No hidden costs at the end of the month, no commissions, no surprises! If you choose a plan you will pay that exact amount monthly, unless you want to upgrade it :)
---
What are the payment options?
---
Our payments are processed through PayPal. You can pay with your PayPal account or Credit Card (Mastercard, Visa, American Express and Discover).
---
Do all plans include support?
---
Yes, our per product plans include standard support, where you can reach out to our support team at support@customily.com and get an answer in less than 24 hs, during normal office hours.
Our unlimited plans have priority support, by email or phone.
---
What if I have multiple stores, is there any discount?
---
Yes! We offer multi-license discounts if you want to have Customily working on several stores (different URLs). This is a 15% cumulative discount over every new store. For example if you subscribe to our $96 plan for 3 stores, you'll pay $96 for your first store, $81 for your second store, and $69 for your third store .
---
---
Products and Personalization
What sort of products can be personalized with Customily?
---
You can personalize ANY product with Customily, no matter how big or small they are. As long as you have a picture of it, and a clear idea what your customers will be able to personalize, you can easily set the preview with our software. We have customers that sell a wide range of personalized products such as jewelry, clothing, furniture, party supplies, stationery and many more. On our blog you can find lots of ideas of what you can personalize and how!
---
What sort of personalizations can my customers do?
---
With Customily your clients will be able to add their own texts or monograms, choose fonts, colors, sizes, materials, patterns, filters and even upload their own photos, artwork or logos!
---
Can my customers add their own pictures to my products?
---
Yes, there's a custom picture upload tool, where your customers are able to upload their own pictures, logos or designs in JPG or PNG files.
---
My products are not printed, can I still use Customily?
---
Yes, of course! :) Our preview tools work with any sort of product, no matter how you will create that personalization (if it's printed, embroidered or even made by hand!). Our production tools, on the other hand, can work for printing, sublimation, screen printing, direct to garment printing (DTG), laser engraving and CNC engraving.
---
I have a store but I don't have any designs yet, can you design some styles for me?
---
No, we're sorry but we don't design anything. We are not a design studio, so we'd rather some professionals do the designing for you. Customily is a tool that allows your clients to make their own designs under parameters already defined by you.
---
I have some designs but I don't know how to fulfill them, will you print them for me?
---
No, we don't print products nor fulfill orders. We will just provide you with the final design your customers made ready for print, you'll have to find a way of printing that :)
---
---
Integration and Compatibility
How can I add Customily to my e-commerce store?
---
You can talk with anyone on our team and ask for it! Once we get to know your store and products, we'll help you find the plan that best suits your needs and we'll integrate Customily into your e-commerce. The integration is done by our expert team to ensure everything works great in your store.
---
How does it integrate with my e-commerce store?
---
Customily seamlessly integrates with your store's layout and theme to let customers personalize directly on your product page, in a fully responsive way both in mobile and desktop.
By replacing your current product picture with our dynamic preview, customers can personalize with a simple set of menus (dropdowns, swatches) and inputs for text or pictures, without having to go through tedious steps, annoying popups or outdated iframes to complete the personalization.
---
Does it work with any e-commerce platform?
---
Yes. There are some platforms which are easier to work with than others, but we love challenges!
We have easy to install plugins for Shopify, WooCommerce, BigCommerce and Magento 2. However, we've also installed Customily on PrestaShop, Miva, Hybris, and custom built shopping carts. So just let us know which platform you are using and we'll make it work!
---
Does it work from mobile devices?
---
YES! Our personalization tools are fully responsive, and they work great on mobile devices. So if your store's design is responsive, your clients will be able to customize from any device!
---
---
Customer Support
What kind of support do you offer?
---
All our plans include email support.
---
Do you offer phone support
---
Yes we do :) You can always schedule a call for the next business day via this link: https://app.customily.com/Subscribe.html?plan=HSUP
---
---